One of my favorite parts of skydiving are the plentiful opportunities for videography – it's a tool we use for training, debriefing, and even celebrating, while we learn from our performances in the air.
The 2018 was special to me, as I had been (for all intents and purposes) off from the sport for about five years.  Hence, while my mind still knew, my muscles took a while to remember the grace and fluidity that human body flight requires.
Throughout the season – and though this video – my skills refreshed.  By the end of the season, 260 jumps, I renewed my AFF Instructor rating and began working as a videographer at Skydive Tecumseh, located at the Napoleon Airport.
This video may not answer the "what does freefall feel like?" question, though it will show you what it can look like.  The vast majority of this video is my own footage (recorded from a helmet mounted GoPro,) with a few clips (of me!) that were shared by my jumping partners.
Thank you for an amazing season!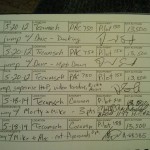 I must say, over the last two years there were times when I wasn't sure if I would jump again or not.
Certainly, there is no debate over how important skydiving was to me in the past, but my life has been changed and rearranged in many ways since then.
Today though, I can simple say that I am glad I had skydiving in my life when I did, as it was able to teach me many lessons that I would not have learned otherwise. Today especially, I am glad that what I learned, both in the external skills and the internal knowledge, have been able to stay with me for long past the currency of my license.
As for the jumps, I was able to get two in, the first to remind me how much of flying ability I've retained.. and the second to remind me how many of my skills I've lost! All in all, a most blessed day.